Anna Porter Artist - Fine Art
Pacific Northwest watercolors, floral, wedding and landscape photography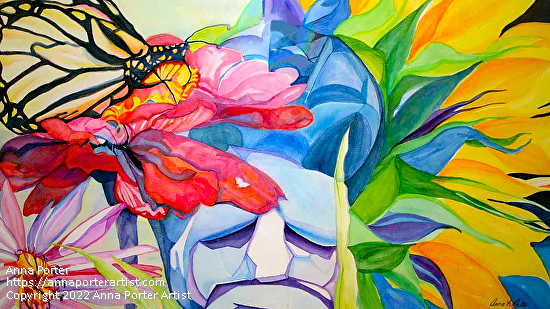 Fine artist and digital photographer specializing in watercolors, paintings, and floral, wedding, and landscape photography in the Pacific Northwest. Studio in Lake Oswego, Oregon, ten miles south of Portland, Oregon in the beautiful Willamette Valley.
Contact: info@annaporterartist.com
Website: annaporterartist.com
Buy prints online: annaporter.instaprints.com and annaporter.fineartamerica.com
Buy prints on Facebook: facebook.com/AnnaPorterArt
Art blog: annaporterartist.com/blog
Photography blog: annaporterartist.tumblr.com
Instagram: instagram.com/annaporterartist
Pinterest: pinterest.com/annaporterart
Twitter: twitter.com/annaporterart
Welcome to my website ! My name is Anna Porter. I am a fine artist and digital photographer, specializing in watercolor paintings, floral, wedding and landscape photography in the Pacific Northwest. My favorite subjects are beautiful flowers (roses are my favorite), weddings, and the stunning landscapes, forests and gardens of the Pacific Northwest.
I began painting watercolors in art therapy in 1994, and I have been painting ever since. I am most content with a paint brush in my hand - hours fly by like minutes. Painting helps me connect to my surroundings and my subjects, and to express myself in a way that I once thought was beyond my capabilities. I have been working as a professional artist since 2007.
I learned how to paint using watercolor as my only medium. While some artists consider watercolor unforgiving and difficult, I love surprises! I love the way that the water and paint effortlessly flow across the paper, creating unique surprises within my painting. Although I have since branched out to embrace other media like gouache, fluid acrylic, and pastel, watercolor remains my favorite medium. I am a purist at heart, prefering bright, pure colors like those in the piece above titled "figi dreams", which was inspired by a dream of the island of Fiji, and flowers from annasgardens, my artist gardens in Lake Oswego, Oregon.
I am happiest when I am painting outside, at one with nature. Much of the artwork and photography that is featured on my website was done outside "en plein aire" in the Pacific Northwest. Since it rains frequently here, I carry my digital camera with me everywhere and I frequently finish my paintings in my studio.
Currently I am experimenting with watercolor and mixed media to add textural details to my paintings of flowers, leaves, trees, rocks, rivers, streams, sunlight, patterns, pathways, birds and animals, and landscapes. My hope is that my paintings and digital photography will make you stop for a moment and notice the beauty that surrounds us in nature, and that you will enjoy a brief respite from the hectic pace of life that we all face today.
I hope you enjoy looking at my art as much as I did creating it. If you would like to purchase a painting or photograph, or if you have any questions about a particular piece of art, please feel free to email me at info@annaporterartist.com. Private viewings of my artwork and studio visits are available by appointment. Many of my original paintings for sale here on my website are available as fine art prints in my online gallery on Fine Art America . You can also purchase prints of all of my Instagram-featured photography on InstaPrints.
I look forward to talking to you.
Anna Porter Artist
Fine Art & Digital Photography
info@annaporterartist.com
http://annaporter.instaprints.com